teach during my literacy block
I will be teaching a straight 2nd grade as of right now. I have taught a 1/2 split for 4 out of the last 5 years, so in theory...I will not have to differentiate quite as much :) Other than that, I will be keeping this mostly the same.
I use a modified form of "The Daily 5" in my room. In my room, students rotate to all of the stations every day. While they do not chose where they go next, they have many choices at each area so they still have choice. I tried the "choice way" but felt like I was losing a lot of learning time coming to the carpet, and waiting for everyone to make their choices. This way, students clean up and are at the next center in about 30 seconds (at most).
Read with the teacher:
I use guided reading every day in my classroom. Depending on the needs of my students, I may also be assessing while a group is silently reading or working on a reading comprehension assignment while at my table.
Read to self:
Students have 8 "seat sack" books that they keep for the week. Seven of the books are at their "just right" level, and their 8th book can be too hard or too easy (I do not allow chapter books though to those who are not ready). I find that especially with lower readers, having that 8th book really keeps them engaged the entire time. A group of students chooses their books each morning and shows them to me (ex. #1-5 choose their books on Mondays), so that I can make sure that they are "just right" for them.
Read to someone:
I wrote a bit about this last week so
see here
for more about that. Students may read their seat sack books, poetry books (weekly classroom shared reading poems), or complete a fluency/comprehension activity. I change these up throughout the year.
Write about reading:
I wrote about this a bit last week too. My students have other times during the day to do free choice writing so they are responsible for writing about their books at this station.
Work with words:
I use an individualized spelling program in my classroom that I designed many years ago. Students are responsible for their personal spelling words each week. They receive their words on Monday, and practice them throughout the week. I also use "
making words
" activities, word families each week, and a weekly phonics skill sheet as well. I have many different ways for students to practice their words to help them to prepare for their spelling test at the end of the week.
Listen to books/computer time:
I have students go on Scootpad every day! This is an individualized E.L.A. program that teaches the child at their current level. I love it!!!! They use it for math too. They have a set number of questions, so when they are done with that, I have many different websites to listen to books. Some of my favorites are:
http://www.scholastic.com/teachers/collection/listen-read-animals-food
(early reader)
http://www.scholastic.com/teachers/collection/listen-read-social-studies
(early reader)
http://www.rif.org/kids/readingplanet/bookzone/read_aloud_stories.htm
http://www.storylineonline.net/
http://www.starfall.com/
http://www.bbc.co.uk/cbeebies/stories/page/all
This is what I created to implement an individualized spelling program for my students.
This is the program modified for 3rd-5th graders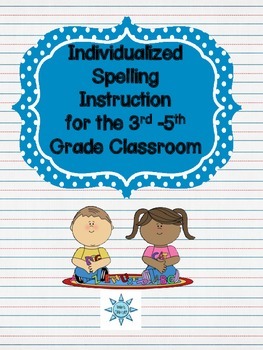 This is the two programs bundled together.
I am marking down the bundle to 50% off until I go to bed on Friday for
Now, I hope that you can go and check out the other wonderful posts about how other teachers teach during their literacy block! Click on the link below to see them.