I can't believe that it is already July! So, that means it is time to link up with Farley at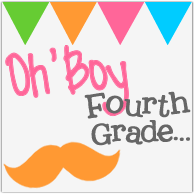 for her monthly linky party!
I am listening to the air conditioner. Mother Nature can't seem to decide what the weather should be like in Michigan these days:) It beats last summer though as it was extremely hot!
I am loving being on summer vacation! I am having so much fun relaxing, traveling, and having fun! This is also a great opportunity to work on improving my classroom for next year!
I am thinking about how summer is about 1/3 over (our last day was June 6th). I still have a lot of things on my to do list.
I am wanting my dishes to magically wash themselves. It reminds me of one of the books in my classroom:
I won't let it get as far as he did though:) Honestly, there are only a few dishes I have to wash though.
I am
needing
to learn how to add things to
my Facebook fan page
. I want to be able to link it to my blog as well as
my TPT store
. I did figure out how to link my Pinterest account:)